The flu virus can mutate (change) very quickly, so each year new strains of flu can be circulating. This is why you need to be vaccinated during each pregnancy, to protect you and your baby from the flu strains that are currently circulating.
Flu is very different to a cold. A lot of people say they have flu when actually they mean they have a cold or another viral infection. Some of the symptoms are similar however, so it can be hard to identify without a blood test.
Flu symptoms typically come on suddenly, unlike a cold which usually gets worse over a few days. With flu, in the morning you could feel normal and by the afternoon you could feel very unwell and unable to carry out your normal day to day activities. People with flu can feel unwell for up to two weeks.
The common symptoms of flu are (you may not experience all of these):
High temperature (38c degrees or above)
Fever (feeling really hot and really cold)
Aching muscles
Extreme tiredness
Headache
Sore throat
Dry cough
Running or
Blocked nose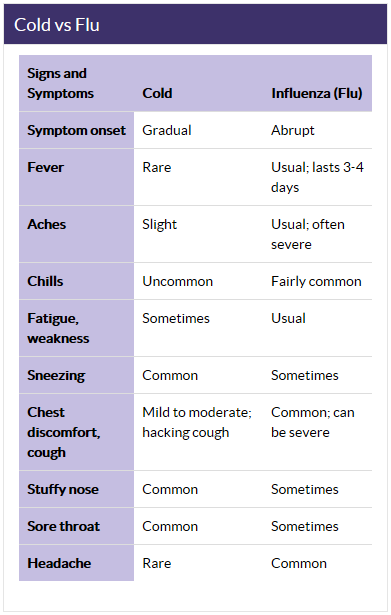 (Chart showing differences between cold and flu – taken from Centre for Disease Control and Prevention website. https://www.cdc.gov/flu/consumer/symptoms.html
Thinking about those around you; around 60% of people infected with flu do not have any symptoms. That means that you can be at risk of catching flu from others, without even knowing it.