Cleft lip /palate
You have recently been told that your baby may be born with a cleft lip and/or palate. For most parents, this diagnosis comes as a shock and you may be worried about how this will affect your plans for parenthood.
It is not uncommon for parents to feel distress and be overwhelmed at first.
These feelings usually begin to fade as you begin to understand more about cleft lip, meet the specialists involved in the care of your baby and plans for future treatment.
What is cleft lip and/or palate?
The word cleft means a gap between two sides. A cleft lip is a gap within the upper lip and may involve the gum area. It can vary from a slight notch to a longer gap extending up towards and into the nostril.
A cleft lip can be on one side (unilateral) or both sides (bilateral).
The palate forms the roof of the mouth. It consists of 2 parts, the hard palate towards the front and the soft palate towards the back.
A cleft palate is a gap in the roof of the mouth. Some clefts only go part of the way through the palate while others may go through the lip, gum and palate.
Some babies are born with a cleft palate only, but this is almost never picked up on ultrasound scan in pregnancy.
When baby is born a check will be made by the neonatal doctor.
Why did this happen?
There is no single cause of cleft lip and/or palate.
In most cases, a cleft lip is caused by lots of different factors (including genetics and the environment) coming together in a way that usually cannot be predicted or prevented.
It is very unlikely that your baby's cleft lip is because of something you did or did not do.
What happens next?
You will be referred to the Fetal Medicine Clinic and be given an appointment to have another scan and see the Consultant Obstetrician.
You can discuss the scan findings with the Fetal Medicine Midwife or trained professional.
There is an association with chromosomal /genetic disorders, the risks will depend on the type of cleft lip involved. A bilateral cleft lip has a higher association, but this can be discussed in detail with the midwife and the consultant.
You will be offered an amniocentesis which is a procedure to take a sample of amniotic fluid to check baby's chromosomes. This is a diagnostic test but has a one percent risk of miscarriage. (further information regarding this test can be found on the Antenatal Screening Wales Website and discussed with the midwife).
It is entirely your choice and you can decline if you wish. We will support and respect your decision.
Heart abnormalities are one of the most common congenital disorders associated with cleft lip and palate so a further heart scan in the x-ray department will be performed at 22 weeks of pregnancy (for a unilateral cleft lip).
A fetal echo will be arranged at the fetal cardiology unit at St Michaels Hospital in Bristol if your baby has a bilateral cleft lip as this is more extensive so a higher risk of a heart defect.
A referral will be made to the South Wales Cleft team who are based in Morriston Hospital in Swansea.
The specialist cleft nurse will contact you normally within 24 -48 hours and will give you more information and can answer any questions you may have.
They will arrange a meeting with you when you are ready.
Picture of unilateral cleft lip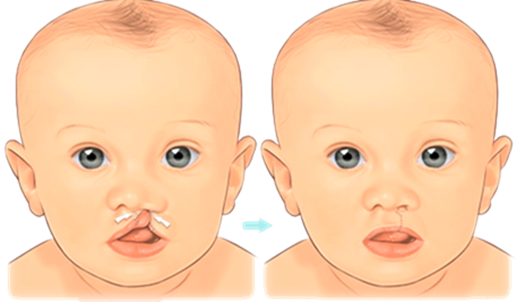 Picture of Cleft Palate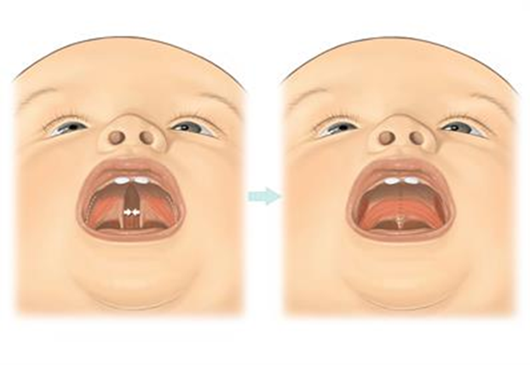 How is cleft lip and palate treated?
Treatment involves surgery. All surgery will take place in Morriston Hospital in Swansea.
One operation for the lip usually around 3 to 4 months old.
An operation to repair a cleft palate usually takes place between 6 to 12 months of age.
For babies who have a cleft involving the lip and palate, the front of the palate may be repaired at the same time as the lip repair is undertaken.
Problems related to cleft lip and/or palate
The main problems can be the affect on feeding, speech, hearing and appearance.
If a baby has a cleft palate with or without a cleft lip they may have trouble feeding properly because they cannot suck very well. Help and advice will be given.
Other issues can be glue ear. This can lead to ear infections and can affect the hearing.
In the vast majority of cases surgery is successful.
Most babies with a cleft lip and/or palate will lead totally normal lives.
Children are monitored closely as they grow and develop and a good support network by the Cleft team is put in place