What is Portage?
Portage is the name of a home intervention programme used all over the United Kingdom and throughout the World. It originated in America and has been in use from the early 1970's.
The Child Development Advisory Service has been active in Gwent since 1976. The Service offers home intervention, with the Child Development Advisor visiting on a regular basis to monitor the child's development and set activities to promote their development.
Parents and carers are vital to the success of the scheme, as they carry out the set activities on a daily/regular basis. Although the targets set for the child are based on a developmental assessment, the Child Development Advisor aims to work in partnership with parents and carers. The Child Development Advisors both welcome and need the ideas and input of parents and carers. The Child Development Advisors have been trained in using specialist teaching techniques to break tasks down for the child to achieve success.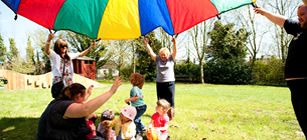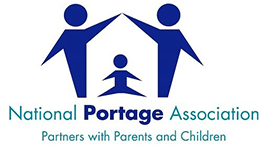 The Child Development Advisor will:
Visit the home on a regular basis – fortnightly/monthly.
Assess the child's development.
Based on this, provide teaching ideas to encourage the child's development.
Monitor progress and plan activities with the family
The Child Development Advisors are trained in child development and special teaching methods. They may have a background in nursery nursing, teaching or psychology.
In addition to working closely with children and families, the Child Development Advisors also liaise closely and work with a wide range of Health Professionals, eg Health Visitors, Paediatricians, Occupational Therapists, Physiotherapists, Speech and Language Therapists etc., as appropriate and given parental consent. Similarly, they liaise with and work with voluntary agencies and the Local Authority, (Education and Social Services) as appropriate and given parental consent.
The child and family continues to receive the service until he/she attends playgroup, nursery school, or commit a large part of their week to another intervention; or reach their developmental milestones. Discharge from the Service is discussed, agreed and planned with families.

We hope you find the following additional information useful:

This service is available across Gwent (Aneurin Bevan Health Board). In Gwent Portage is known as the Child Developmental Advisory Service and is part of the Child and Family Psychological Health Directorate. This Service is a home based service for pre-school children with developmental delay. The Child Advisory Service will accept referrals for children with a recognised developmental disability or who are developmentally delayed in two or more areas. Referrals mostly come from Health Visitors or Paediatricians. Parental consent must be obtained for referrals. The Child Development Advisors (frequently referred to as CDA's) work in the following local authority areas:
Blaenau Gwent
Caerphilly
Monmouthshire
Newport
Torfaen
For the most part, the Child Development Advisors are based at three centres – Caerphilly Children's Centre, Nevill Hall Children's Centre and Serennu Children's Centre, Newport. The central administrative base is at Llwyn Onn, St Cadoc's Hospital, Caerleon. The telephone numbers for these are:
Serennu Children's Centre
Newport
(For Newport/South Monmouthshire)
Tel: 01633 748000

Caerphilly Children's Centre
(For Caerphilly)
Tel: 02920 867447

Nevill Hall Children's Centre
(For Blaenau Gwent/North Monmouthshire)
Tel: 01873 732713

Administrative Base
Llwyn Onn, St Cadoc's
(For Torfaen & Manager of Service)
Tel: 01633 436996
Any questions or queries in general about the Service may be directed to:
Anne Marie McKigney
Consultant Child Psychologist
Tel: 01633 436996
What happens on a home visit?
Your Child Development Advisor will have arranged to visit you at a specific time fortnightly or monthly.
The Child Development Advisor will bring toys and/or equipment, or maybe, just ideas to help you reach your child's developmental target.
The Child Development Advisor will model (demonstrate) the activity by doing it with your child. At this point, you can also try it, to make sure everything is clear.
You will also have some time together to discuss any difficulties with the teaching, or with your child's progress. A home visit will last for a maximum of one hour, as the Child Development Advisor will also have other home visits to carry out during the day.
You will need to practise the activity, ideally each day, and can model it for your Child Development Advisor the next time he/she calls. If you or your child finds the activity difficult, your Child Development Advisor will help you by modifying this.
You can prepare for the visit by making sure the T.V. is off, and there are no distractions for your child – please see "Lets Go".
Aneurin Bevan Health Board
Child & Family Psychological Health Service
Llwyn Onn
Grounds of St Cadoc's Hospital
Caerleon
NP18 3XQ
Tel: 01633 436996